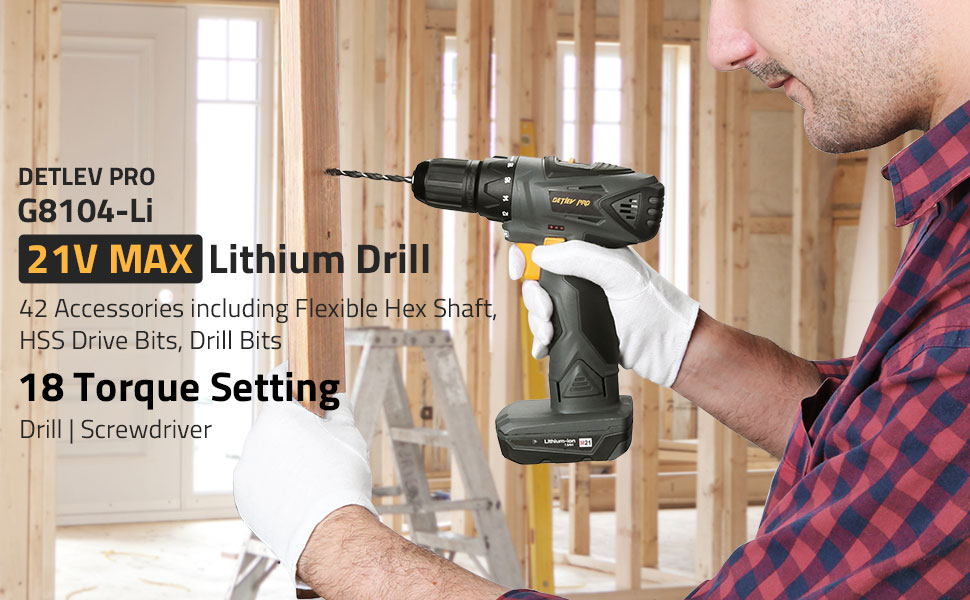 DETLEV PRO Cordless Drill Driver 21V Electric Screwdriver 2 Speed Max 18+1 Torque Setting G8104-Li
Lightweight and Durable Drill Driver
Ideal for drilling into wood, metal plastic and all screw driving tasks.
Lithium-Ion 1500mA battery pack for a significant length of time and for use.
Integrated LED light for optimum illumination of dark work areas.
Carrying case is great for storing and carrying.
DETLEV PRO Drill with Versatile 42Pcs Accessaries
18 position clutch can be run as a driver-drill or a hammer driver-drill, and is engineered for applications in wood, metal, masonry, and concrete.
Variable 2-speed design (0-400 rpm and 0-1400 rpm) and 33pcs driver bits for a wide range of drilling, driving and hammer applications.
With a connect flexible hex drill shaft, one no longer need to be concerned with any drill head that can not work.